Defending America's Grasslands
The 2023 Western Working Lands for Wildlife Workshop is
an invite-only event that will bring diverse stakeholders together to share ideas, swap stories, and celebrate private land conservation.
Dean Krehbiel
State Resource Conservationist, Kansas NRCS
Having grown up on a working farm in western Kansas, Dean has a long history and tie to working lands in the state. As the State Resource Conservationist for USDA's Natural Resources Conservation Service (NRCS) in Kansas, he now works to help conserve these lands. Dean has extensive experience in working lands conservation through his 25 years with Kansas NRCS. Prior to joining the agency, he received his bachelor's degree in biology from Fort Hays State University. He and his family continue to live in a rural community in McPherson County.
Clint Evans

Colorado State Conservationist, NRCS
Clint has served as the State Conservationist (STC) for the NRCS in CO since February of 2015. He started his career in southeastern KS as a Soil Conservation Technician (SCT). Over the past 20 years, Clint has held a wide range of positions at the field and state level. His career experience includes time as a SCT, Soil Conservationist, District Conservationist and State Programs Specialist in Kansas. In 2009 Clint was promoted to the ASTC for Programs in Idaho and later served as the ASTC for Operations. In addition to the positions Clint has held, he has served on long term detail assignments as the Acting ASTC for Programs in Ohio, Easement Programs Specialist in the Easement Programs Division in National Headquarters, Easement Assessment and Remediation Coordinator in Wyoming, as well as serving 120 day details as the Acting STC in both Idaho and Utah. He was named Outstanding State Conservationist of the Year in 2021 by the National Association of State Conservation Agencies.
Evans attended Kansas State University where he studied animal science, agri-business and agronomy earning a Bachelor's of Science Degree in Agriculture. Clint lives in Colorado with his wife Lynn, whom he met at Kansas State.
Cade Rensink
GPGI Board Member, Heritage Cattle Company, KS
Cade and his wife, Amanda, are raising sixth-generation Kansas ranchers in their sons, Callan and Colyer.  Their family operates in western Ottawa County and northwest Saline County where they have a commercial cow herd, a backgrounding enterprise and do custom grazing.  Their resource base is primarily native tall grass prairie and crop residues.  Cade also works for K-State Research & Extension as the Director of the Central Kansas District.  Prior to his administrative role, he was a Livestock Production Agent for the district where he provided technical service and educational programs to agricultural producers with a focus on grazing livestock production, natural resource stewardship and farm/ranch management.  He is a graduate of Kansas State University with a B.S. degree in Animal Science & Industry and minors in Agronomy and Agricultural Economics.  Cade also holds a Master's Degree in Range Science from K-State. 
In addition to GPGI, Cade is currently serving as a board member of both the Kansas Grazing Lands Coalition and Kansas Soil Health Alliance.
Robert Bonnie
Undersecretary for Farm Production and Conservation, USDA
Robert Bonnie is the Under Secretary for Farm Production and Conservation at USDA. Prior to joining USDA, Bonnie was at Duke University first as a Rubenstein Fellow and later as an Executive in Residence at the Nicholas Institute for Environmental Policy Solutions working on conservation and environmental issues in rural America. In 2020, Bonnie also worked with the Bipartisan Policy Center on its Farm and Forest Carbon Solutions Initiative. Bonnie was Under Secretary for Natural Resources and Environment at USDA from 2013 to 2017, and a senior advisor to Secretary Tom Vilsack from 2009 to 2013. He lives with his wife, Julie, and daughter, Lilly, in Loudoun County, Virginia.
Shelly Kelly
Executive Director, Sandhills Taskforce
Growing up on a family Sandhill ranching and farming operation near Brewster helped Shelly gain a sincere appreciation for the Sandhills ecosystem and the associated ranching industry. A college degree in Range Science from South Dakota State University and previous employment with the Natural Resources Conservation Service (NRCS) as Range Management Specialist in North Platte and other locations allowed her to gain new perspectives on ranching and conservation and how the two can fit together. She is passionate about ensuring ranching remains viable in the Sandhills, and the grassland remains intact. Shelly started working for the Sandhills Task Force in 2014 and operates out of her home. Shelly and her son Conley live near Broken Bow, Nebraska.
Steve Jester
Executive Director, Partnerscapes
Prior to joining Partnerscapes, Steve was the Executive Director of the Guadalupe-Blanco River Trust, the first nationally accredited land trust in Texas. Before working at the Trust, Steve was on the staff of The Nature Conservancy for almost a decade leading community-based conservation projects first in Texas and later in Wyoming. Additionally, he has worked with state fish and wildlife agencies in Florida and Texas. He has worked with private landowners throughout his career and has come to appreciate their critical importance in conserving working landscapes that provide some of the most important wildlife habitats in the United States. Steve earned a B.S. degree in Agriculture from Texas State University – San Marcos and a M.S. degree in Wildlife and Fisheries Sciences from Texas A&M University. He lives in Edwards Plateau region of Texas with his wife Suzanne and daughters Shelby and Shae.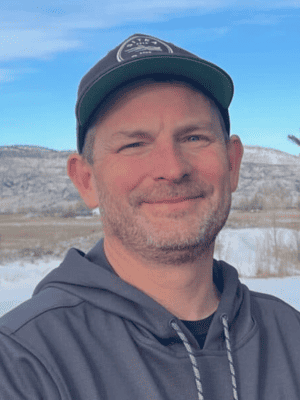 Tim Griffiths
National Coordinator, West Working Lands for Wildlife, NRCS
Tim provides leadership and resources to conserve working lands in the Great Plains and sagebrush country and the rural ways of life that support them. He grew up in Klamath Basin in southern Oregon, obtained his degree in Wildlife Science from Oregon State University, and has spent his entire career working to achieve fish and wildlife conservation through sustainable agriculture and to reduce regulatory burdens associated with the Endangered Species Act. In 2011, Tim received the Secretary of Agriculture Honor Award for his work on the agency's major sage grouse conservation initiative.
David Naugle
WLFW Science Advisor, Wildlife Biology Professor, University of Montana
Dave is Professor of Wildlife Biology at the University of Montana and a science advisor for the NRCS-Working Lands for Wildlife in the sagebrush biome. Dave and his team of research scientists use the newest GIS and remote sensing technologies to quantify the importance of local and landscape attributes influencing habitat use of grassland and wetland birds in prairie and sagebrush ecosystems. As the science advisor for WLFW, Dave has worked with researchers to produce more than 65 peer-reviewed papers that further sage grouse and sagebrush science. Dave received his Ph.D. in Biological Sciences from South Dakota State University in 1998, his M.S. in Wildlife Science from South Dakota State University, in 1994 and his B.S. Wildlife Ecology and Conservation in Northwest Missouri State University in 1992.
Jeremy Maestas
National Sagebrush Ecosystem Specialist, USDA-NRCS West National Technology Support Center
Jeremy works with NRCS staff and partners to put science into practice through strategic habitat conservation delivery in sagebrush ecosystems across the West. He grew up in Nevada and went on to earn B.S. and M.S. degrees in Wildlife Biology from Colorado State University. Much of his career has focused on sustaining working landscapes in the Great Basin, where contributions have included implementation of large-scale strategic approaches to reducing conifer encroachment, wildfire and invasive species threats to sagebrush ecosystems. Jeremy has also helped build curriculums and educate thousands of rangeland practitioners on low-tech, process-based riparian restoration techniques.
Dirac Twidwell
WLFW Science Advisor, Professor, University of Nebraska-Lincoln
Dirac is a Professor in the Department of Agronomy and Horticulture at the University of Nebraska and the science advisor for the NRCS-Working Lands for Wildlife efforts in the Great Plains. In 2016, he was awarded the UNL Junior Faculty Excellence in Research from the Institute of Agriculture and Natural Resources and Outstanding Young Range Professional Award from the Society for Range Management. He is the Scientific Advisor for the Board of Educational Lands and Funds, which manages grasslands to generate revenue for public school education in Nebraska. He also leads the Twidwell Research Team in the Department of Agronomy & Horticulture at the University of Nebraska-Lincoln. The Research Team focuses on broad, transdisciplinary research questions in applied ecology with an emphasis on how fire, climatic variability, and anthropogenic change drive state transitions in rangelands.
Dillon Fogarty
Research Assistant Professor, Woody Invasions Ecologist, University of Nebraska
Dillon's research and extension focuses on how we can better conserve grassland ecosystems threatened by woody plant encroachment. He works directly with conservation groups across the Great Plains region to help bridge gaps between science and management applications. Prior to his current position at the University of Nebraska, he received his bachelor's degree in biology from Bemidji State University, master's degree from Oklahoma State University, and Ph.D. from the University of Nebraska.
Doug Spencer
State Grazing Land Management Specialist, Kansas NRCS
Doug Spencer serves as the state grazing specialist for USDA's Natural Resources Conservation Service (NRCS) in Kansas. He provides NRCS personnel and the producers they serve with statewide leadership, technical guidance, and training on grazing, forage, and livestock management related practices, programs, and activities. Some of the most rewarding portions of his 23-year career with the agency has been working and learning alongside producers seeking resource-based solutions. Being raised on a small cow-calf operation fueled his pursuit of a B.S. in Agronomy (Range Management option) and minor in Animal Sciences from Kansas State University. Doug resides in rural Marion County with his wife and three children, still helps with the family operation, and was awarded the USDA-NRCS Rangeland Conservationist of the Year in 2020.
Dusty Tacha
Area Range Specialist, Kansas NRCS
Dusty Tacha is a Rangeland Management Specialist for USDA – Natural Resources Conservation Service for Area 2 out of Hutchinson, KS, covering south central and southwestern Kansas. He provides technical assistance to producers in the area and support and training to NRCS Field Office employees on resource concerns affecting rangelands and other grazing lands as well as support for conservation practices and programs. Dusty earned a B.S. in Biology-Ecology and M.S. in Biology-Grassland Ecology/Range Science, both from Fort Hays State University. A of Northwestern Kansas native, Dusty has been involved in agriculture his whole life; with personal work on family land in Decatur and Reno counties in Kansas and professional range management work extending from West Texas to Montana. He has been with NRCS for 16 years. Dusty's greatest passion is promoting and assisting with reintroduction of fire into the grassland ecosystem and subsequent removal of invasive woody encroachment. Dusty resides in rural Reno County, KS with his wife and two daughters.
Scott L. Morford
Associate Director, WLFW Science Team
Scott L. Morford is the Associate Director of the WLFW Science Team at the University of Montana and the technical lead for the groups' spatial science efforts. Scott specializes in remote sensing, machine learning, and programming to help deliver science products to support WLFW's conservation goals. Scott has more than 20 years of experience applying his engineering skills to support conservation science efforts. Scott received his Ph.D. in Soil Biogeochemistry from the University of California, Davis and his B.S in Resource Conservation from the University of Montana.
Arthur Middleton
Senior Advisor on Wildlife Conservation, USDA
Arthur is an associate professor of wildlife management and policy. He leads a variety of interdisciplinary research efforts on wide-ranging wildlife and large-landscape conservation, and works actively to ensure positive outcomes of this work for communities. Arthur's earliest work with wildlife was as a falconer and raptor biologist. He later pursued graduate training in environmental management at Yale University, and in ecology at the University of Wyoming. He returned to Yale as a postdoctoral fellow. Arthur joined the Department of Environmental Science, Policy, and Management at UC Berkeley in 2016. He is currently serving as Senior Advisor for Wildlife Conservation at the U.S. Department of Agriculture. When he's not in the lab, Arthur is with his wife Anna, his daughters June and Eve, and their dogs Jack and Lupine. In summers, the family relocates to Cody, Wyoming, where the Middleton lab has a "home away from home" at the Center of the West.
T.J. Wilson

Deputy Director, Conservation Division, Farm Services Agency

T.J. Wilson is the Deputy Director of the conservation division of the Farm Services Agency. Previously, Wilson served as a program manager for the Conservation Innovation Grant program for the NRCS and as a management program analyst in the Office of the Associate Chief for Operations where he helped lead research and built foundation for the first Customer Experience office in USDA at the Farm Production and Conservation (FPAC) mission area and assisted in a variety of projects to streamline and tailor customer-facing online services across FSA, NRCS, and RMA, ultimately serving on the national team that crafted the farmers.gov product.
Jackie Byam

State Conservationist, Wyoming, NRCS

Byam has worked with NRCS for 18 years. She has served in several NRCS field offices in Minnesota, and in leadership positions with NRCS in Maryland, Illinois, South Dakota and Kansas. A Minnesota native, Byam grew up on a small family farm where they raised hogs, corn and soybeans. She earned a Bachelor of Science in Conservation from the University of Wisconsin – River Falls Outside of the office, Byam is an active member of Women in NRCS (WiN) and enjoys traveling. She goes back to Minnesota as often as she can to spend time with her family at their cabin "Up North" and at the family farm. NRCS provides farmers and ranchers with financial and technical assistance to voluntarily put conservation on the ground, helping improve agricultural operations and the environment.
Alan Lange

Natural Resources Specialist, Farm Services Agency

As a lifelong resident of rural Iowa, Alan has experience in agriculture and passion for conservation which led him to a career of conservation planning.   Alan attended Iowa State University where he received a Bachelor of Science in Wildlife Biology.  In 2003 Alan joined the NRCS and has performed conservation planning duties in many capacities and locations, including duties as the Iowa NRCS CRP Manager.  In 2022 Alan joined the USDA Farm Service Agency and now serves as the Natural Resources Specialist for Wildlife in the Conservation Division where he provides leadership on wildlife topics for the CRP. Alan enjoys spending time perusing all things outdoors.